Beer Cheese Soup with Garlic Butter Crostini Recipe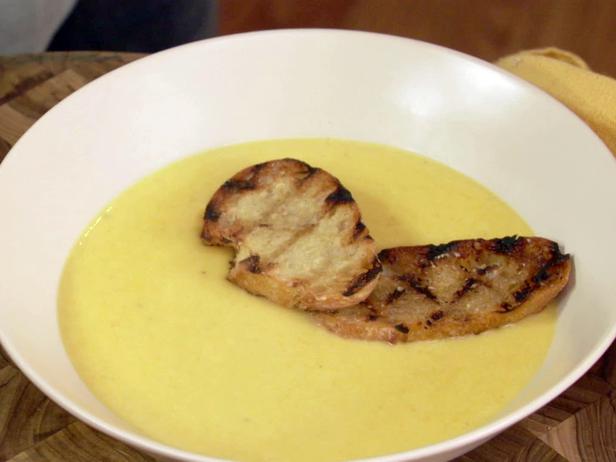 Ever have a graving for a soup no one else has had? This is probably that soup..
Ingredients
3 tablespoons unsalted butter
2 carrots, finely diced
2 stalks celery, finely diced
2 cloves garlic, minced
1 small onion, finely diced 1/2 teaspoon dry mustard powder
Pinch cayenne pepper
Kosher salt and freshly ground black pepper
3 tablespoons all-purpose flour
2 cups chicken stock
2 teaspoons Dijon mustard
1 teaspoon Worcestershire sauce
1 bottle pale ale
2 cups shredded sharp yellow Cheddar
1 cup shredded gruyere
1/2 cup half-and-half
Garlic Butter Crostini, for serving, recipe follows
Directions
Melt the butter in a Dutch oven or large saucepot over medium heat.
Add the carrots, celery, garlic, onions, mustard powder, cayenne and sprinkle with salt and pepper.
Sweat the vegetables until tender, about 15 minutes.
Sprinkle the flour over the vegetables and cook, stirring constantly, about 1 minute.
Pour in the stock, mustard and Worcestershire and simmer until the veggies are very soft, about 15 minutes.
Add the ale, simmer, about 5 minutes, and then puree with an immersion blender until smooth.
Add the Cheddar, gruyere and half-and-half and stir until melted through and smooth.
Adjust the seasoning and top with the Garlic Butter Crostini.
Garlic Butter Crostini:
1/2 baguette, sliced into 12 thin slices on the diagonal
3 tablespoons unsalted butter, softened
Kosher salt
1 clove garlic
Heat a grill pan over medium heat.
Brush the baguette slices on both sides with the butter and sprinkle with salt.
Grill the slices on both sides until grill marks form, about 3 minutes per side.
Rub the slices with the garlic.